CS20-8K Pro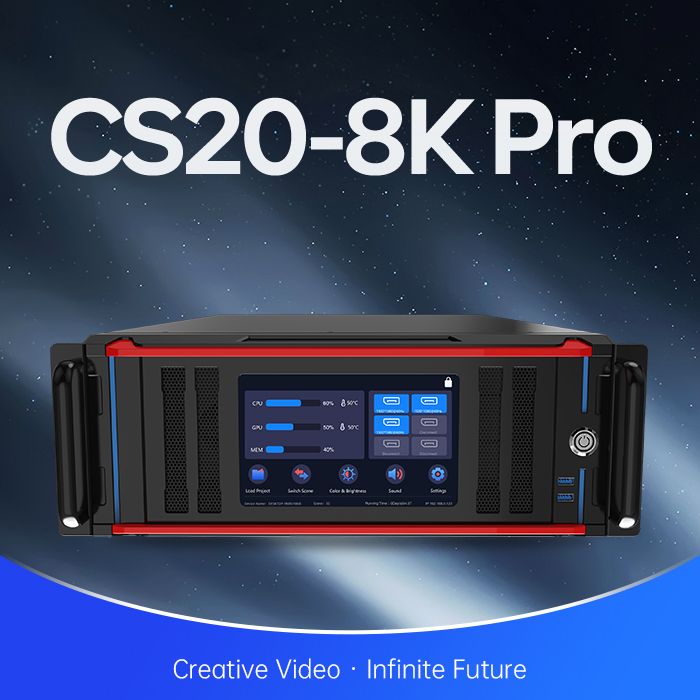 Strong & Powerful
CS20-8K Pro offerings include powerful CPU and GPU, 32GB RAM and 1TB M.2 SSD for fast playback of large files, up to 1000W power supply, dual 1GB Ethernet for high-speed transfer of content.
Robust & Stable
CS20-8K Pro combines optimized ventilation system, bringing a whole new level of security and stability for your works.
Unlimited Devices(Optional)
Support for 100% frame synchronization. There are no limits on the number of display devices you can add to your show. This means no limits on your image resolution!
Various Resources
CS20-8K Pro presentation uses multiple media, such as still images, video clips, sound files, text, etc. A wide variety of video file formats are accepted, including H.264\H.265\HAP, 3D video and HDR video are also accepted. Additionally, you can capture multiple content streams through capture cards, RTSP/RTP/NDI network video streams.
Creative Display
Thanks to 3D mapping technology, you can build a custom display on any shape, structure, or building.
Flexible Controls
CS20-8K Pro can be combined with other systems and technologies to build entire presentation environments. Use any mobile device, such as an iPhone, iPad, or similar device, as an interactive front-end, controlling any number of CS20-8K Pro clusters.