"Here we are!"- Colorlight product launch event in Dubai held successfully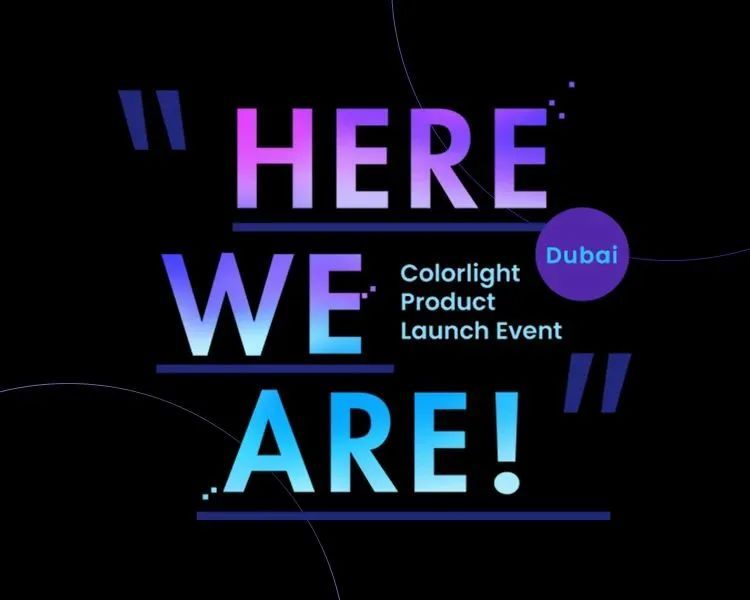 On Mars 17 2023, "Here we are!" Colorlight product launch event was concluded successfully in Dubai, attracting numerous customers of LED display industry in the region and neighbouring countries. Focused on its cutting-edge technologies, wide product range, and advanced solutions, Colorlight fully engaged participants in the conversations about business opportunities and the potentials for win-win cooperation.
In addition to its insight into the development prospects of LED display industry, Colorlight also presented a large range of unique technologies, ingenious solutions, and service marketing strategies, which did not fail to impress the customers.
Global service program
Ever since its entry into the international markets, Colorlight has always been committed to providing professional LED display and control solutions for global clients. During the event, the company's overseas marketing director introduced in detail Colorlight's global service program, feature-rich products, and the major developments in the industry. His adequate answers to technical questions further enhanced customers' confidence in the company's broad product portfolio.
Solutions for fixed installation projects
In Dubai, a number of latest products and solutions were placed in the spotlight. From X100 Pro video splicer for ultra-large screen, to X20 professional processor that is more than sufficient for 4K display, and then to CS series media server capable of managing creative video sources... Colorlight's one-stop solution effectively guarantees LED display project in all aspects.
ColorlightCloud
ColorlightCloud centralized network solutions offer the increased overall performance of cloud player, cloud server, and cloud software. As an illustration, Colorlight provided detailed introduction about A200 and A35 cloud networking players. This series is ideally suited for smart lamp pole screen, commercial advertising, and other scenarios that help build the brand value.
High-end rental service
In the rental market, Colorlight also aims at driving the industry forward by enhancing its advantages on professionality and usability, creating more values for customers. The super processor, Z8t, used in combination with ColorAdept, accurately caters to the usage habits of overseas clients and reduces the complexity of screen configuration. The live demonstration of its intuitive workflow and interface further attracted great interest among visitors.
Several lucky draw sessions
Interspersed with several lottery draws and coffee breaks, the event kept surprising participants with carefully prepared gifts and closed in a joyful and relaxing atmosphere.
Looking ahead, Colorlight will continue to concentrate on localization services and international markets, offering considerate customized service with an ever-growing global service network. More and more high-value products and solutions are about to come as we constantly improve product matrices and technical innovations.